Organizational effectiveness is the concept of how effective an organization is in achieving the outcomes the organization intends to produce. (Source: Wikipedia – Etzioni, Amitia. (1964). Modern Organizations. Englewood Cliffs, NJ: Prentice-Hall.)
The Holistic Organizational Effectiveness Survey (HOE Survey) assesses how effective an organization is in doing the things and establishing the environment and conditions necessary to achieve the outcomes the organization intends to produce.
The HOE Survey includes 12 sections with 97 questions in all. Each of the questions represents an important driver for achieving HOE. The average overall rating for all questions and all survey participants is 3.45 on a 1 – 5 rating scale where 5 = Effective and 1 = Ineffective. While some survey participants rated their organization's HOE significantly higher or lower than the average rating for all respondents, the overall average HOE rating of 3.45 is a very low rating. Ideally, any organization's HOE rating should be between 4.5 and 5.o and as close to 5.0 as possible.
The following profile graph shows the HOE gaps for each of the 12 HOE survey sections and for the aggregate overall survey results. Gaps are the difference between the ratings being on the outer circle (rating = 5.0) and the actual rating. The HOE profile graph shows the areas of relative strength (none of the HOE Survey sections received high overall average ratings) and relative weakness.
HOE Profile – Identifying the HOE Gaps (Survey Results for all 265 Respondents)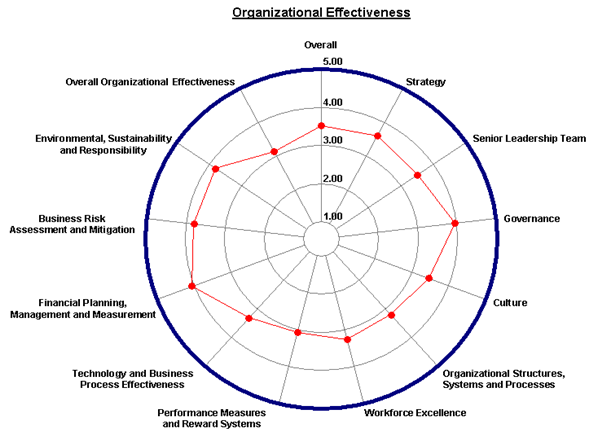 The HOE Survey Report (pdf) includes profile graphs for each of the individual survey sections, displaying the HOE gap for each of the survey questions within the respective survey sections.
Why take a Holistic approach to measuring and achieving Organizational Effectiveness?
The HOE Survey takes a holistic approach to assessing Organizational effectiveness because there are many important issues that drive organizational effectiveness, organizational health and an organization's ability to achieve its "desired outcomes". Focusing on some or all of the HOE drivers that HR and OD typically focus on is simply not enough. Effectiveness of senior leadership, governance, innovation, technology and business processes, suppliers, enterprise risk management (ERM), environmental sustainability, financial planning/management/measurement and other factors is critical for achieving desired organizational outcomes.
Having relatively low HOE levels in any of the 12 key HOE driver areas (survey sections) can seriously impact an organization's  ability to achieve its desired outcomes and it can ultimately become the cause of the organization's failure.
What are your organization's HOE gaps? Key questions for you:
What do you think your organization's HOE gaps are? How do you know?
How much more effective would your organization be if it assessed HOE and then implemented an ongoing HOE improvement process?
What would it take to make your organization's senior leaders aware of the HOE concept and to buy into and implement a long-term process for achieving HOE excellence?
What additional resources are needed for your organization to implement a HOE improvement process, getting all functions within the organization actively involved?
Which functional area within your organization is best positioned to drive your organization's HOE improvement process?
What are the next steps in making your organization's leadership team aware of HOE and then starting up a continuous HOE improvement process for your entire organization?
Tools for Measuring Holistic Organization Effectiveness
Some of the cost-effective services/tools available for accurately assessing HOE  levels and improvement progress include:
Holistic organization effectiveness surveys
Employee engagement surveys / employee satisfaction surveys
IT customer satisfaction surveys
Customer satisfaction surveys
360 Leadership surveys
Enterprise risk management surveys
Information about employee surveys / employee  engagement surveys