IT Customer Satisfaction Surveys
IT Help Desk Customer Surveys
Providing Information and Insight for
Increasing IT and Corporate Effectiveness
Quantisoft's online IT surveys and online IT Help Desk surveys measure the performance and effectiveness of internal and outsourced IT resources, providing managers with the information and insight they need to increase IT performance and customer satisfaction. Our wide range of IT customer satisfaction surveys gather performance feedback on individual incidents from users as well as perceptions about technology effectiveness and service over time:
Comprehensive IT customer satisfaction surveys

Semi-annual and annual comprehensive online IT customer surveys capture user/customer perceptions about their service experience over the past six or twelve months with Help Desk, Deskside Support, Application Support, Network Effectiveness, Ordering/Replacement of Hardware and Software, Customer Training, Communications from/with Information Technology, and other services. Semi-annual and annual online IT satisfaction surveys provide broader and more comprehensive information and insight for understanding and improving customer service performance and overall customer satisfaction levels, and for measuring performance and satisfaction trends.

Incident (transaction) follow-up surveys

Incident or transaction follow-up surveys assess how customers feel about how well specific Help Desk, Deskside Support, Application Support and other service incidents were handled. These surveys provide information for immediate performance improvement actions by Information Technology management and staff, and for monitoring performance and satisfaction trends.
Quantisoft's Online IT User Satisfaction Surveys Focus on the Things That Matter the Most
Our IT assessments identify strengths and weaknesses of IT staff, processes, customer service delivery, customer policies, system's performance and other pertinent issues. The surveys also hone in on IT customers, what they are experiencing and how IT's performance is impacting them and their customers. At a time when CIOs, CTOs and IT managers are under pressure to increase IT performance while their budgets are tightening, Quantisoft provides the solutions you need at a very affordable cost.
Most assessments we conduct include several or all of the services and functions listed below. We will customize the questions to meet your needs.
Types of Quantisoft IT User Surveys
Help Desk support
Deskside service and support
Break Fix support
Install, Move, Add, Change (IMAC) support
Software application maintenance support (enterprise and other software)
Software application development/implementation
Network services (network access, response time, uptime)
Training for IT employees and customers/users
Customer feedback on Project Management Office (PMO) performance
We also conduct specialized IT surveys such as Microsoft Office Suite and Windows user proficiency surveys/assessments.
Annual Online IT Survey Process
Collecting IT Customer Opinions and Perceptions
about Service Delivery
→

Then Taking Action to
Increase Satisfaction and Performance

From the perspective of IT customers, the best service is no customer service. When customers need service, they want a fast, efficient and professional experience. If there is a problem, they want it fixed immediately, without the need for follow-up. However, they really want their technology to work so well that they have no need for customer service at all.

Information Technology problems frustrate internal and external customers and impact their productivity, their ability to sell and serve their customers, and their ability to perform their jobs effectively.

Conducting assessments and taking action based on the results enables Information Technology management to be proactive rather than reactive to customers and the problems they are experiencing.

IT customer surveys help to eliminate recurring and other problems, and enable Information Technology to anticipate and address problems before they become significant. This reduces the number of service incidents which in turn, reduces the number of in-house and/or outsourced people required to provide customer service.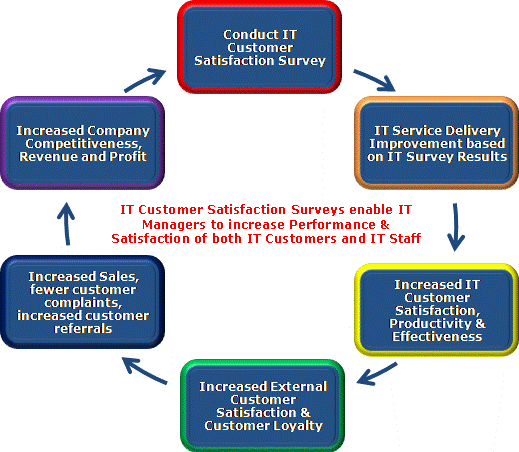 IT Survey Questions -- IT Customer Satisfaction Survey and IT Help Desk Survey Metrics
Online IT Survey/Online IT Help Desk Survey ratings provide a clear indication of current and ongoing levels of IT performance and user satisfaction. Verbatim comments and suggestions provide critical actionable information and insight for achieving breakthrough results.
Quantisoft has extensive experience in knowing the right questions to ask and in wording the questions effectively. We include demographic questions about users, enabling us to provide survey results reports by user department and site/location and other demographics as well as for each Information Technology function, overall. IT Satisfaction Survey performance metrics include the following and other service and performance criteria, depending on the type of survey being conducted:
Ease and time required to contact the Help Desk with inquiries and to report problems
Timeliness of initial response from Help Desk staff
Timeliness of IT problem resolution
Courtesy and attitude of Help Desk staff
Knowledge of IT customer's environment and other pertinent user issues
Communications effectiveness
Effectiveness of problem resolution
Follow-up to ensure satisfactory resolution
Awareness of SLAs (service level agreements), service channels, and service policies
Effectiveness of individual Information Technology staff and teams
Satisfaction levels of IT customers/users sorted by user location, user business unit and other user demographics
Effectiveness of outsourced Help Desk, Deskside Support, Application Support and other services
Effectiveness of systems developed
Timelines in meeting system development deadlines
Intranet uptime/Internet uptime
Web site effectiveness
Benefits of Quantisoft's IT Surveys/IT Help Desk Surveys/IT User Surveys
In-house and outsourced Information Technology resources are an integral part of any business today. Technology impacts your organization's ability to attract and retain customers, compete effectively, provide high levels of customer service, drive workforce productivity and much more. Quantisoft's IT surveys and IT Help Desk surveys enable organizations to realize significantly greater value from costly Information Technology resources, achieving the following and other benefits for your organization:
Identify and fix recurring problems -- this reduces the number of help desk and desk-side support service requests
Increase IT performance, enabling significant improvements in the performance, effectiveness, competitiveness and satisfaction of IT's internal and external customers
Pinpoint and diagnose problems and opportunities, and connect the dots across the organization
Gain insight for prioritizing IT performance improvement initiatives and projects
Achieve breakthrough improvements in IT service attribute performance including timeliness, professionalism, courtesy, knowledge, communications with customers, problem resolution effectiveness, etc. for in-house and outsourced Help Desk, Deskside Support, Application Support, Network and other services.
Identify and deal with lowest performing Help Desk, Deskside support, Application support, Network and other IT staff
Enable IT customers to communicate more effectively with service providers
Increase IT service quality and productivity
Reduce Information Technology costs
Make better, more objective decisions based on IT customer/user and staff feedback.
Identify problems and opportunities by IT agent/technician, team, product, site location, communication channel, customer business unit and type and other criteria
Focus investments in IT staffing, training, equipment, teams and programs where they will have the greatest payback
Improve coaching of in-house and outsourced staff using user feedback
Increase validity of Information Technology staff reward and recognition based on customer feedback
Send an important message to IT staff and users that their performance and satisfaction are top priorities
IT User Survey Customers
Quantisoft's IT user satisfaction survey customers include companies ranging in size from well over 20,000 employees to middle market companies to companies with as few as 20 employees. Our customers are in a wide range of industries including manufacturing, pharmaceuticals, bio technology, health care, financial services, high tech, not for profit and other industries. Some of our IT customer survey/IT user survey customers have in-house IT departments while others have outsourced IT functions and some have a combination of in-house and outsourced IT functions. All of our customers have a few things in common:
The desire to gather information and insight about user satisfaction and performance
The need to identify ways to increase customer satisfaction and the performance of in-house and/or outsourced IT functions
The need to find ways to contain and lower IT costs while increasing user satisfaction
Should Your Organization Conduct an IT Survey/IT User Satisfaction Survey?
Here are some reasons why your organization may need to conduct an IT customer satisfaction survey:
If IT management is being pressured to do more with tighter budgets and fewer resources
If IT users are complaining about the Help Desk, Deskside support, Application support, Network support and support for other services
If senior management and key users are demanding better performance and results from IT
If IT management has a gut feeling that performance and customer satisfaction can be significantly improved and you want a fast, cost-effective way to identify the opportunities and problems facing Information Technology from the perspective of customers
If your company needs to become more competitive with technology enhancement and performance playing a key role
Other uses of IT User Surveys
Making better IT sourcing decisions - IT User Surveys are excellent tools for making informed IT sourcing decisions. Many organizations are experiencing significant problems with both in-house and outsourced IT functions. For companies that are considering bringing outsourced services back in-house, as well as for companies thinking of outsourcing IT services, conducting an IT customer satisfaction survey is a highly effective way to assess the performance of current IT functions to identify problems and user satisfaction levels, and what needs to be done to bring performance and satisfaction up to acceptable levels. This is an important step in deciding whether to fix the current situation or whether it may be better to change direction and move IT either in-house or to an IT outsourcing company.
Establishing and adjusting SLA's (service level agreements) - Some companies are intentionally lowering their Information Technology costs by reducing service levels of their in-house and/or outsourced functions. In some cases SLA's are planned and in other cases IT staffing is just kept arbitrarily low due to budget or other reasons. Conducting an IT user satisfaction survey is a great way to measure the impact of SLA's and to make informed decisions about adjusting SLA's to increase IT performance and satisfaction levels.
Creating baseline IT measurements - The first IT customer survey your company conducts will provide baseline data that is useful for assessing current user satisfaction and performance levels as well as for providing baseline data for measuring progress as changes are made based on assessment results.
IT customer satisfaction surveys/IT user satisfaction surveys provide a very fast payback
Whether your organization has less than 100 employees, 1,000 employees, 10,000 employees or many more than that, conducting an IT user satisfaction survey can provide an extremely fast payback. First, taking action based on IT customer surveys can significantly improve the performance and image of IT, taking pressure off of CIO's, CTO's and other information technology managers. Beyond that, we identify ways to reduce or eliminate many costly problems that negatively impact IT customer performance, IT staff productivity and your company's customers.
Contact us to learn about our low-cost pricing and to receive a free proposal. Taking action based on the findings and our recommendations typically generates benefits worth many times the cost of the IT survey.
IT Survey Reports
IT satisfaction survey reports include graphs, tabular summary reports and comments reports for your organization overall and by demographics such as department, location, etc. Reports provided with your second and subsequent assessments include trend reports comparing data from the most recent and your previous assessments.
Optional Executive Summary Report
Most of Quantisoft's customers have us analyze their survey data and prepare an executive summary report which includes comprehensive analysis of the data and comments, and preparation of a report that includes a summary of the findings and recommendations based on the findings. Our extensive experience and expertise provides an outside, objective review that is completed quickly, saving you time and enabling your organization to start your change process as soon as possible.